In June 2014, HOPE, as part of a consortium of fair housing agencies nationwide, the National Fair Housing Alliance, and HUD, reached a historic settlement with Wells Fargo Bank over a complaint concerning the marketing and maintenance of foreclosed REO's in communities of color. As a result of that settlement, and in partnership with Wells Fargo Bank, HOPE is pleased to add Community Development programs targeted to serve the Austin neighborhood of Chicago, and the City of Elgin, two areas hard-hit by foreclosure disproportionately affecting neighborhoods of color.
HOPE's Community Development programs are empowering Elgin and Austin to overcome the lingering effects of foreclosure, achieve neighborhood stabilization, and create racial and economic diversity.
To read more about national initiatives to invest in inclusive communities, please view the National Fair Housing Alliance Report
HOPE & Project Access
In 2016, HOPE partnered with Elgin School District U-46's Project Access to pilot a rent assistance program for homeless families identified through the school district. The premise of this pilot was: with a small investment of rent assistance to homeless and at-risk families in addition to wraparound support services, could we improve outcomes for families and schools? Interested in learning more about the outcomes of this project?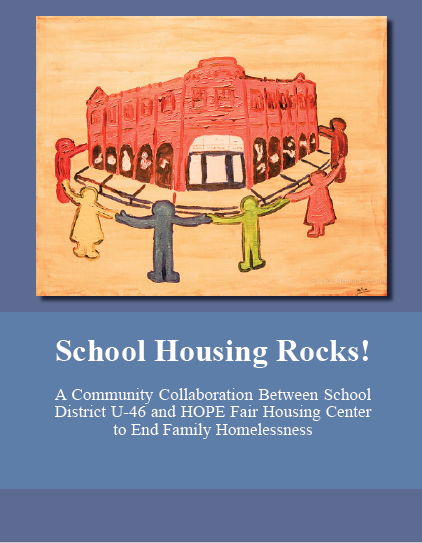 Past Community Development Accomplishments
Homeownership Grants
HOPE sponsored homeownership grants in the Austin and Elgin Communities. We also plan to invest in other areas in the future when funds become available.
Community Building
HOPE contracted with Austin Coming Together/Goodcity to build neighborhoods, support neighbors, and create opportunities for Austin residents to come together! Austin residents joined our neighborhood task forces to help build community, support early childhood education, work for youth justice, develop workforce opportunities, and create a beautiful, built environment to encourage a healthy Austin neighborhood.
If you are a resident of Austin and wish to know more about how you can get involved, contact Andrew Born at 773-417-8612, or visit www.austincomingtogether.org for more information.
South East Elgin Neighborhood Initiatives
A group of Elgin non-profits and HOPE joined forces with residents to build and strengthen the community in the South East Elgin Neighborhood. Community planning sessions were held, and projects included:
Improving lighting in the neighborhood
Forming block clubs and neighborhood watch groups
Creating a more beautiful river front south of the Grand Victoria Casino
Attracting more businesses to South East Elgin
Creating a newsletter, SEEN-IT, to keep up to date on what's going on
Holding monthly meetings where you could network, get to know your neighbors, and hear presentations about topics that interested you.
Austin Ascending
HOPE partnered with Oak Park Regional Housing Center to help 15 building owners rehab units or take advantage of technical assistance and training. This helped create 48 units of affordable rental housing and improved the economic stability of households and neighborhoods. Cooperative lenders created low-interest loans for participants in this program to accomplish larger cost repairs, such as adding new HVAC or roofing to homes.
Austin Coming Together
New block clubs formed, neighborhood clean-ups and barbecues were held, and task-forces continue working to address issues of importance to residents. A community survey of properties was completed, and outreach was conducted to help people obtain assistance with foreclosure prevention, property rehabilitation, business development, and workforce training.
Neighborhood Housing Services/Down Payment and Closing Costs
Ten new homeowners used the program to purchase housing in Austin.
Elgin Neighbors Program
HOPE provided funds for two Elgin Symphony employees to purchase long-vacant foreclosed homes in need of extensive repair. As a result, these purchases enhanced the racial and economic integration of their neighborhoods.
ElgInstead
HOPE produced a multi-layered marketing program called "ElgInstead" to promote the great features and amenities that living in Elgin could provide. This unique marketing strategy incorporated billboards, posters, radio, and website ads, to promote the strengths of Elgin's diversity, access to public transit, scenic natural location, high ranking high schools, and affordable historic homes. ElgInstead was designed to enhance other investments HOPE has made in Elgin and create demand for Elgin as a community of choice for all races and income levels.
Education
HOPE partially funded Project 2-3-1: The Story of Elgin's African American Heritage. The film premiered on April 26, 2015, at 3 pm at the Elgin Community College Blizzard Theater.
HOPE also was a partial sponsor of The Newsome Park Project commemorative signage to mark the historic Settlement neighborhood. The signs are currently on display at the Elgin History Museum. Installation is expected in May of 2015.
Housing Development
HOPE partially sponsored Habitat for Humanity of the Northern Fox Valley to rehabilitate four historic, foreclosed properties in the Elgin area. These homes were completed in 2015 and currently provide housing for four low-income families who would not otherwise have the opportunity to own a home.
Hours
Monday - Friday
9 am to 5 pm CST